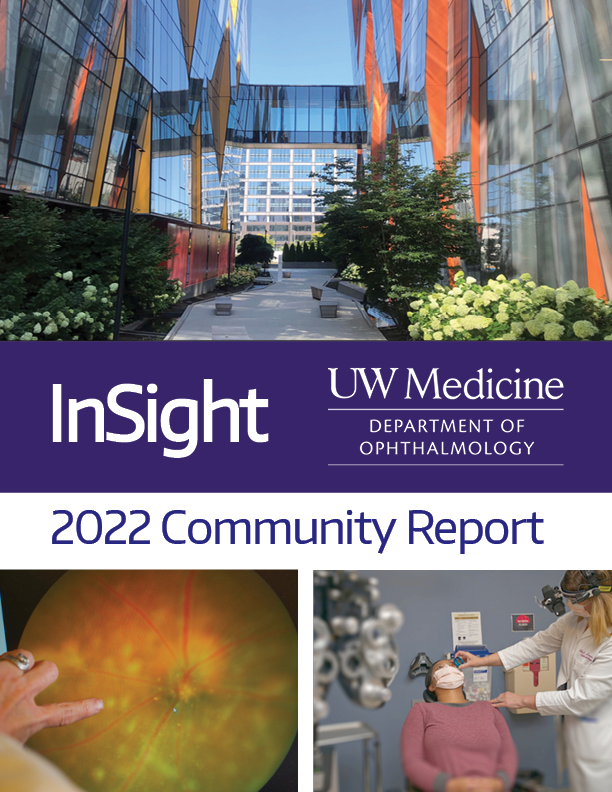 Because of the COVID-19 pandemic, this is the first Community Report in four years. Despite the significant challenges during this time, we have continued to pursue our singular mission: to alleviate suffering from eye disease. We continue to do this through our robust research programs, outstanding patient care, educational programs to train the next generation of physicians, and by gifts from generous donors and grateful patients. We have had a remarkable year in the department in each of these areas and are delighted to share our progress with you.
Our vision scientists are committed to improving diagnosis, treatment, and ultimately finding cures for diseases of the eye and visual system. Collectively, the department published 175 papers during the 2021-22 academic year. This year our department rose to #3 in the nation in NIH funding among ophthalmology departments, and the University of Washington rose to #2 for National Eye Institute funding.
Learn more in this report about how our South Lake Union campus and the Karalis Johnson Retina Center (pictured on the front cover) support four pillars of research in its mission to eradicate retinal blindness: advanced optics imaging, computational ophthalmology, accelerating the therapeutic pipeline, and vision restoration research.